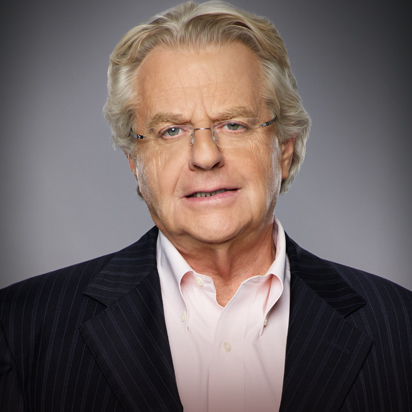 Throughout an illustrious career, Jerry Springer has become a cultural and civic icon. In addition to hosting "The Jerry Springer Show," which first debuted in 1991, he has been the mayor of Cincinnati, political pundit, lawyer, Emmy award-winning newscaster, game show host, a country recording artist, international emcee and TV personality. He has been in movies and on Broadway, he's a progressive talk-radio broadcaster and recently Springer won America's heart with his ballroom dancing.
Today, because of the lasting popularity of his talk show and political interests, Springer has become a favorite guest speaker at college campuses across the U.S. In recent years, Springer was welcomed at The Clinton School of Public Service, Harvard, Yale, Georgetown, George Washington, American University, Tulane, as well as other academic institutions. In 2009, Springer was the commencement speaker at his law school alma mater, Northwestern School of Law. Springer was personally invited by the Oxford Union of Oxford University to participate in their guest lecture series, during which he broke all attendance records for that long-standing series. In September of 2011, Springer kicked off the prestigious Eisenhower Symposium at Johns Hopkins University speaking on the topic of "America's Boundless Possibilities."
"Ringmaster" hit bookstore shelves in November 1998; penned by Springer, it was a personal account of his experiences along with remembrances from his childhood and professional career. In November 1998, Springer made his first venture into feature films, starring in Ringmaster, a fictionalized movie chronicling his television talk show. In 1999, Springer teamed up with Mike Myers, where he portrayed himself in the hit movie "Austin Powers 2: The Spy Who Shagged Me." Everyone knew Springer had "arrived" as a true cultural icon when he was the featured character in "The Simpsons' 1998 Halloween Special." He has also graced the cover of Rolling Stone, Esquire, TV Guide and New York Magazine. Barbara Walters chose Springer as one of the 10 Most Fascinating People in her 1998 Special.
In 2009, Springer brought his comedic skills and theatrical style to London's West End playing the role of Billy Flynn in the hit musical production of Chicago. Warwick Thompson of Bloomberg News, said, "There's the sheer pleasure of watching a genial TV pundit in a fish-out-of-water situation and having a good time." Springer reprised the role in the United States and as a culmination, played Billy Flynn on Broadway – a life-changing event for Springer.
A parody of The Jerry Springer Show, Jerry Springer: The Opera, played in London to sold out crowds at the prestigious National Theater winning the Lawrence Olivier Award for best musical which is akin to the Tony Awards. The Opera toured throughout England and received outstanding reviews upon its New York premier at Carnegie Hall in January of 2008 with movie star Harvey Keitel playing the role of Springer. JSTO continues to travel across the USA and the world to sold-out crowds and controversial but rave reviews. Additionally, Springer has hosted a variety show in England and South Africa. The South African program was broadcast in more than 40 African nations, featuring interviews with celebrities, monologues and skits in front of a live studio audience, and ranked among the most popular television show in South Africa. All proceeds from the show went to AIDS charities. In addition to recording two CD's in Nashville, one aptly titled "Dr. Talk," Springer has twice served as the master of ceremonies for the "Miss World Pageant." Springer added a Broadway appearance to his distinguished list of achievements, starring for a week in the production of the Rocky Horror Show Live. Springer again hit the London stage in a limited engagement playing the role of Captain Hook in the UK New Wimbledon Theatre's production of Peter Pan. Born in London in 1944, after his family fled the Holocaust, Springer immigrated at age 5
to New York City with his family. For Springer and his family, America represented a place where people could live without persecution. His family knew all too well what happens when liberty is denied. His college years took him south to Louisiana, where he earned a degree in political science at Tulane University. He then received his law degree from Northwestern University in Illinois. In 1968, his life changed during a dinner meeting with then New York Senator Robert Kennedy, who was running for president behind the force of social change. Springer signed on with the Kennedy campaign, but shortly thereafter felt the horror of Kennedy's assassination along with the rest of the world. That moment in history compelled him to the political action he has never abandoned.
After joining a law firm in Cincinnati, he spearheaded the movement in Ohio to lower the voting age from 21 to 18, culminating with his Senate Judiciary Committee testimony supporting ratification of the 26th Amendment to the Constitution. He ran for Congress in Ohio in 1970, nearly beating the entrenched Republican incumbent. In 1971, he won a seat on the Cincinnati City Council and served five terms before becoming mayor at the age of 33 with the largest plurality in the city's history. After an unsuccessful bid for governor of Ohio in 1982, Springer was courted by the big three networks, ultimately signing with the then last place Cincinnati NBC affiliate WLWT. As their anchor and Managing Editor, Springer took WLWT to first place. It was his nightly commentaries, the precursor to his now legendary "Final Thought," that landed him seven Emmys. Springer was voted television's best anchor for five consecutive years by readers of Cincinnati Magazine. In May of 2008, Springer was invited to be Commencement Speaker at his alma mater, Northwestern University School of Law. Springer, Juris Doctor 1968, ended his address with a story about his parents, who escaped the Holocaust and immigrated to the United States in 1949. "In one generation here in America, my family went from near-total annihilation to the ridiculously privileged life I live today because of my show," Springer said, his voice wavering slightly. "Indeed in America, all things are possible." Springer became a morning radio talk show host with the debut of "Springer on the Radio" on January 17, 2005. Broadcast in 85 markets including Air America, Springer said, "For too long, the radio airwaves have been dominated by conservative talk." Springer ended the radio show after two years, but enjoyed the opportunity to offer a progressive voice. America fell in love with Springer's warmth and self-effacing humor during his stint on "Dancing with the Stars" in the fall of 2006. Springer waltzed his way into America's hearts, finishing in the final five. In fact, one memorable headline stated, "Springer Dances His Way Into Viewers Hearts." Springer hosted NBC's hit series "America's Got Talent" in 2008 and 2009, which showcases America's hottest performers. In October of 2010, Springer hosted the 25 city tour of "America's Got Talent Live."
Springer hosted the hit game show, BAGGAGE on the Game Show Network. BAGGAGE is also airing in syndication since the fall of 2012 in over 95% of the USA. The third season premiered in June 2011 and is GSN's highest rated original program. Springer says of the show "As everyone knows, I have met a lot of people with a lot of baggage in the course of my career, but this may be the funniest and most honest approach to it that I've ever seen," says Springer. "One thing this show proves is that everyone, no matter how much baggage they have, has the potential to be a winner."
A new, 20-episode traveling version of the network's hit series Baggage – called Baggage On The Road will debut on Wednesday, January 7 at 9:00pm ET/PT.
Springer hosted the live production of "The Price Is Right" all over the USA and Canada. "I am honored that 'The Price is Right Live' chose me as the special guest host for its stage show," said Springer. "I have been a huge fan of the classic television game show for years, and have always wanted to yell, 'Come on down!' to an excited audience." Springer has hosted this iconic live show in Las Vegas and in Atlantic City to record breaking crowds and spent the summer of 2014 hosting in Branson, MO