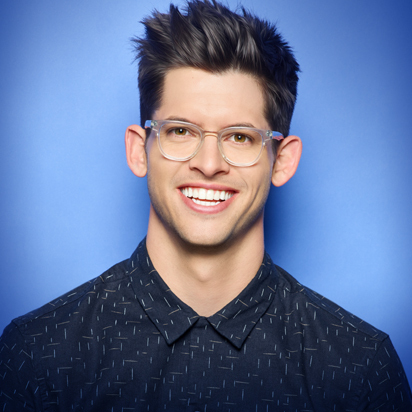 One of the leading producer/creators in the online media world, Hunter March is now breaking through to traditional TV audiences as host of GSN's new game show series EMOGENIUS. The show taps into the massive popularity of emojis and text messaging, featuring two pairs of contestants who face off to put their emoji-solving skills to the test, for a chance at winning up to $10,000.
Hunter's career launched at AwesomenessTV, where he went from "coffee-fetching intern" to producer of shows watched by a subscriber audience of nearly 5 million. He has since become the face of AwesomenessTV, producing and hosting up to 10 videos each week, attracting millions of views every month. Hunter also served as host of "Top Five Live," the flagship daily show for Verizon's Go90 app
Becoming a game show host seems to also be in Hunter's DNA. His late grandfather, Hal March was host of the popular 1950s game show, "The $64,000 Question" which also earned him a star on the Hollywood Walk of Fame. "My goal is to have my own star right by my grandfather's so he can look down and say, 'what the heck is an emoji?'" says Hunter.
March's online success has also led to him launching his first book, "TBH: 51 True Story Collabs," from Scholastic in April 2017, featuring stories contributed by two dozen social media influencers.