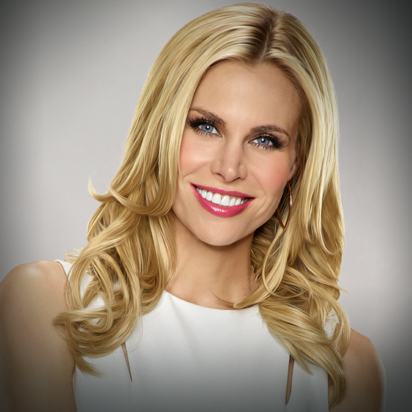 Brooke Burns serves as host of GSN's Emmy®-nominated series, THE CHASE, one of the network's most popular original series ever.
Best known for her starring role in the hit TV series "Baywatch," Burns has been working steadily since she was a teenager, landing her first television role in the TV series "Ally McBeal." She has also had starring roles in "North Shore" and "Pepper Dennis." and a recurring role on the new "Melrose Place."
Burns' additional television credits include appearances on "Just Shoot Me," "Drop Dead Diva" and "CSI: Miami." She also had a role in the film "Shallow Hal" and the Hallmark Original Christmas movie "The Most Wonderful Time of the Year." Brooke will also appear in the Hallmark Movies and Mystery TV movie series, "Gourmet Detective," based on the series of books by Peter King and airing Spring 2015.
After the arrival of her first child, Brooke segued into the world of television hosting in 2002 with instant success. She hosted NBC's "Dog Eat Dog," for which she was nominated for a Teen Choice Award, and hosted ABC's "You Deserve It" with "The Bachelor's" Chris Harrison. She also hosted TruTV's "Motor City Masters," an automotive designer competition show.
A trained ballerina from age 2, she showed great promise as a professional ballet dancer by the time she was a teenager. Burns, a Dallas native, and her family moved to Romania when she was 12, and she had the opportunity to dance with the Romanian Opera Ballet. Her dance career abruptly ended at age 15 when she badly damaged her knee in a skiing accident. The following year, supporting her love of travel, she moved to Europe, modeling in Paris, Milan and Munich. But her effervescent personality is what caught the attention of television and film producers alike.
In her personal life, Burns remains thankful for her miraculous recovery from a diving accident in 2005 that broke her neck and could have left her paralyzed. She donates time to LRO, a program that gives back to people who have spinal cord injuries. In addition, Burns enjoys reading, hiking, stand-up paddling, and road trips. She is married to filmmaker Gavin O'Connor and currently resides in a suburb of Los Angeles.