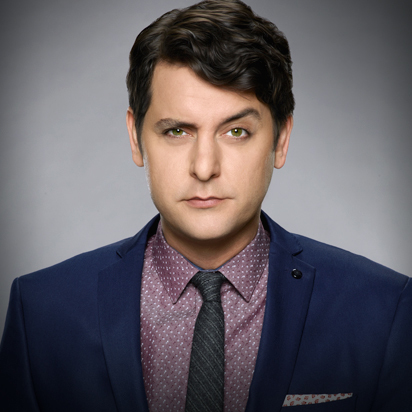 Comedian and actor Ben Gleib serves as host and co-executive producer of GSN's hit series Idiotest, now in its third season. The show is based on the highly popular game app which tests the powers of observation as well as logic.
Best known for his over 100 roundtable appearances on "Chelsea Lately," Gleib is also a familiar face to GSN viewers, previously hosting "Dog Park Superstars" and "GSN Live" for the network. He is the voice of Marshall the Sloth in 20th Century Fox's "Ice Age: Continental Drift," the number-one animated movie of all time internationally, and can be heard in the animated movies "Book of Life" and "Jay And Silent Bob's Super Groovy Cartoon Movie." His weekly podcast "Last Week on Earth with Ben Gleib" on the Smodcast Network debuted at #9 on iTunes Comedy, and was #1 on Stitcher for over 20 weeks.
An accomplished standup comedian, Esquire magazine named him one of "Six comedians who could be comedy's next big thing." Gleib has performed on his own across North America, but has also opened for both Chelsea Handler and Dane Cook, and has performed on "The Late Late Show" on CBS, and on NBC's "Last Call With Carson Daly" and "Last Comic Standing." He is also a frequent guest on NBC's "Today Show."
In 2013, Gleib worked for the motion picture academy, hosting their first ever "Oscar Roadtrip," featured on ABC's "Oscars Pre-Show." He was also a guest star on the E! scripted series "After Lately" and appears as a guest correspondent on CNN, sharing his comedic take on politics.
Gleib was one of the stars of the SyFy series "Insane or Inspired?," hosted the webseries "Behind Enemy Lines" for Yahoo!, "Is It Manly?" for Egotastic, and the official live red carpet for The Grammys in 2011. Gleib also starred in the 2007 NBC primetime comedy series "The Real Wedding Crashers."
Ben has made countless talk show appearances, including "Today Show," "Good Morning America," "Sportscenter," "EXTRA," and "Access Hollywood Live." He also voiced two characters in the popular Disney animated series "Phineas and Ferb." For seven years, Gleib was on the SoCal NPR show "Patt Morrison's Comedy Congress," for which he received the prestigious Golden Mic Award.
IDIOTEST is produced by Little Wooden Boat Productions, Inc. Executive producers are Mark Cronin of Little Wooden Boat Productions, Adam Rosenblatt, Jamie Rosenblatt and Christian Horner of H2R Productions; Ryan Devlin and Shawn Greenson of He Shoots, He Scores Productions, and Larry Barron and Ryan Curtis.